Eazzy Commerce
This software has been specifically designed for commercial businesses that sell, maintain, rent & service any type of equipment and for the management of jobs linked to them.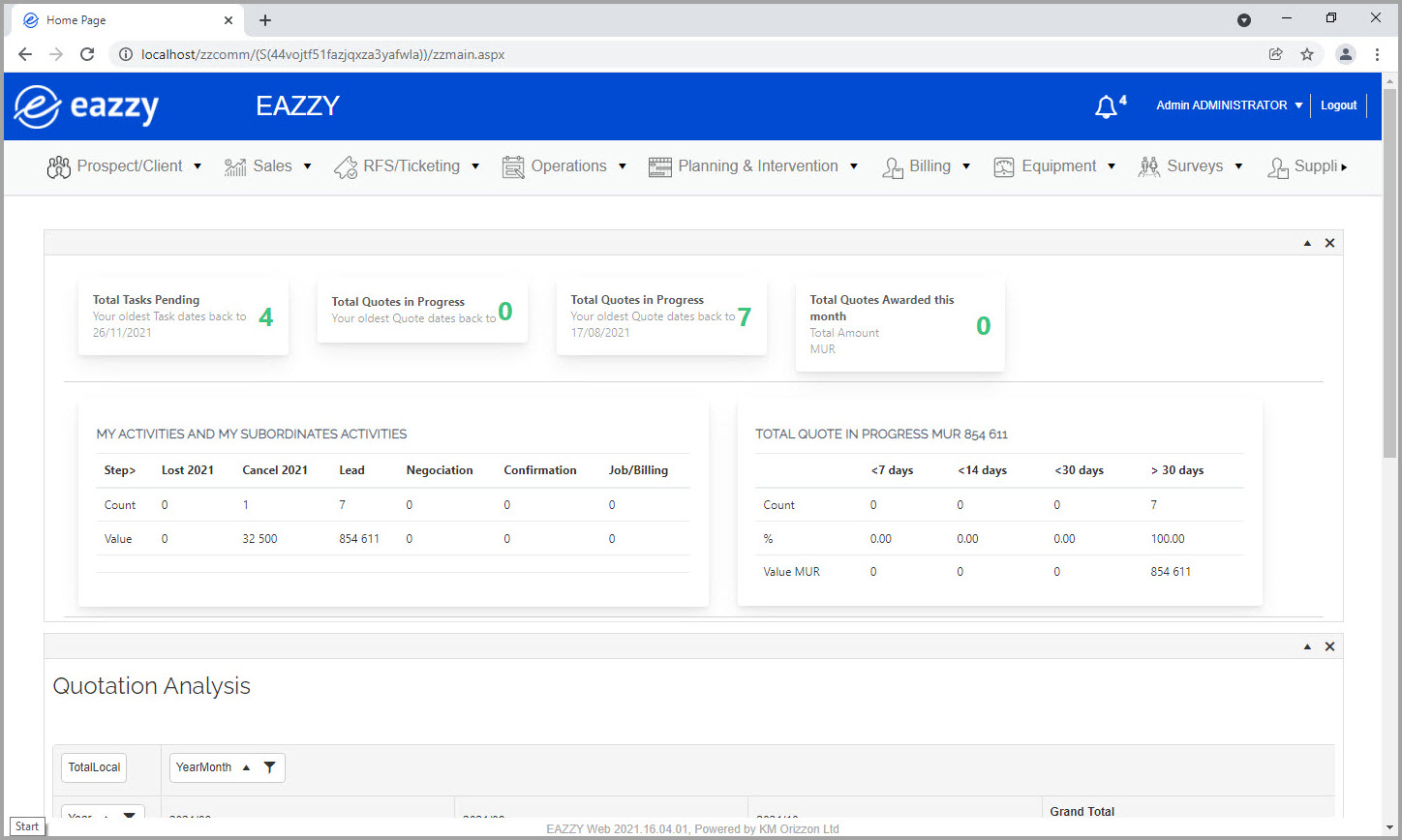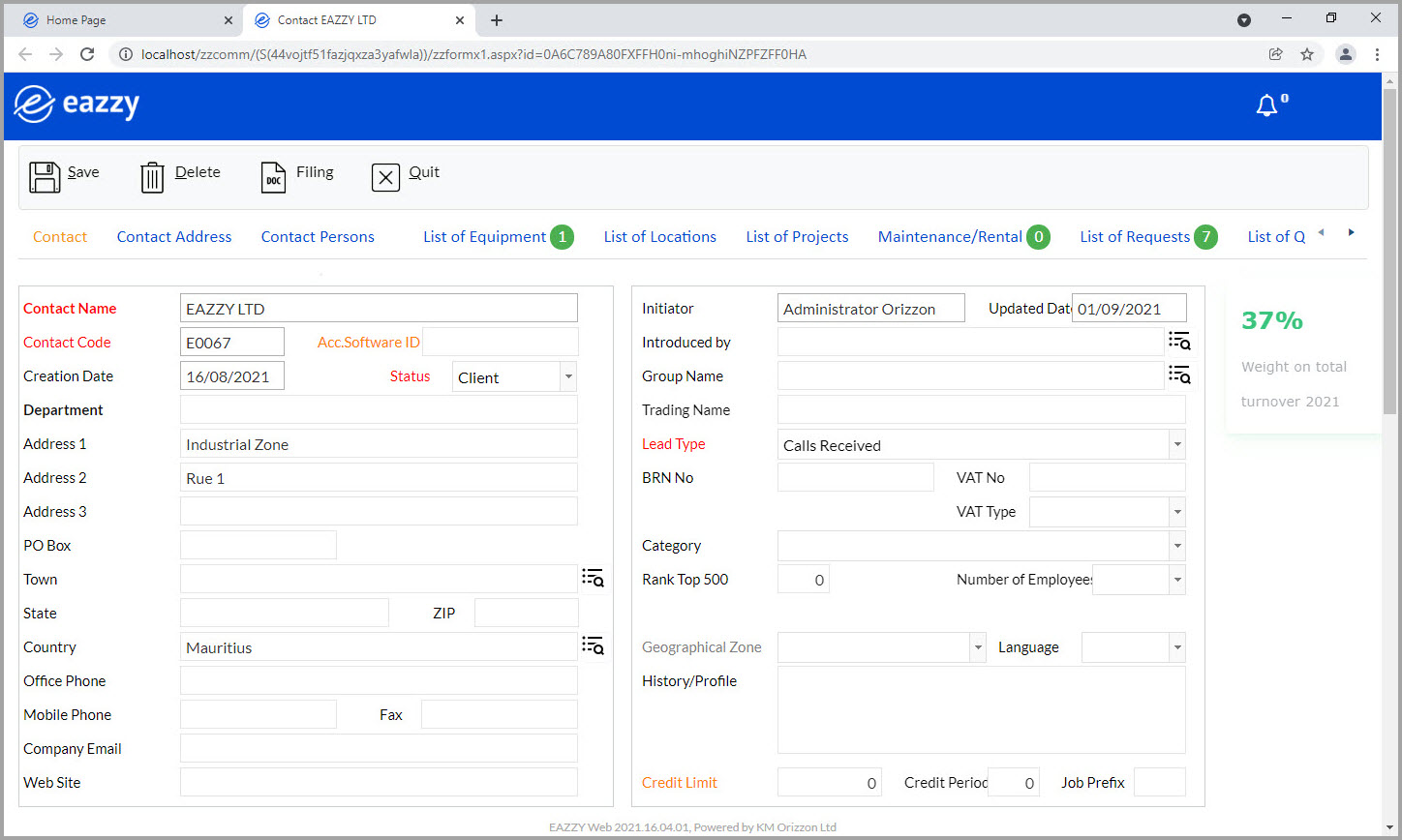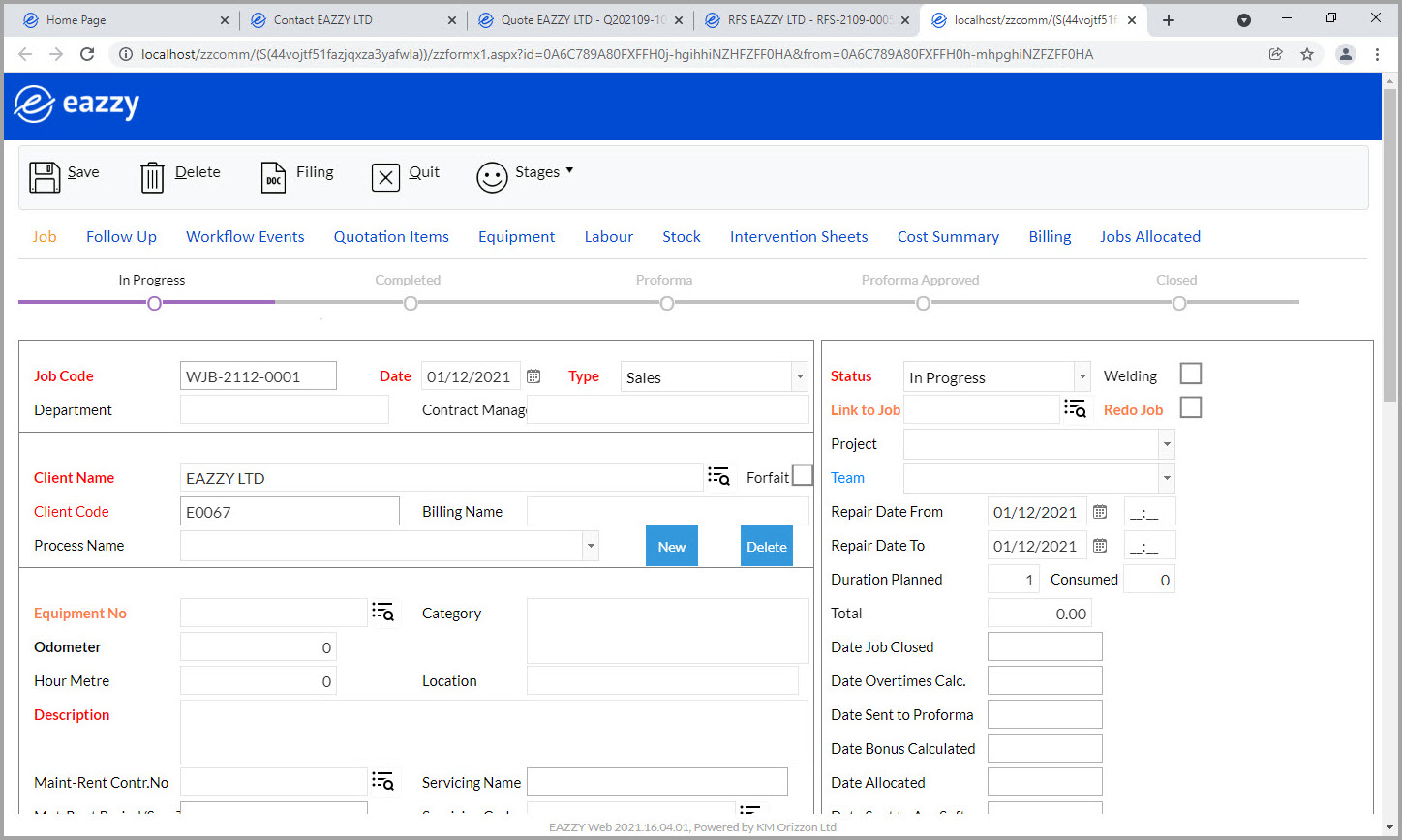 Customers, equipments, job management
Commerce Management Software
We've been working for over 15 years to develop the perfect commerce management software to make your business life easier.
Find Out More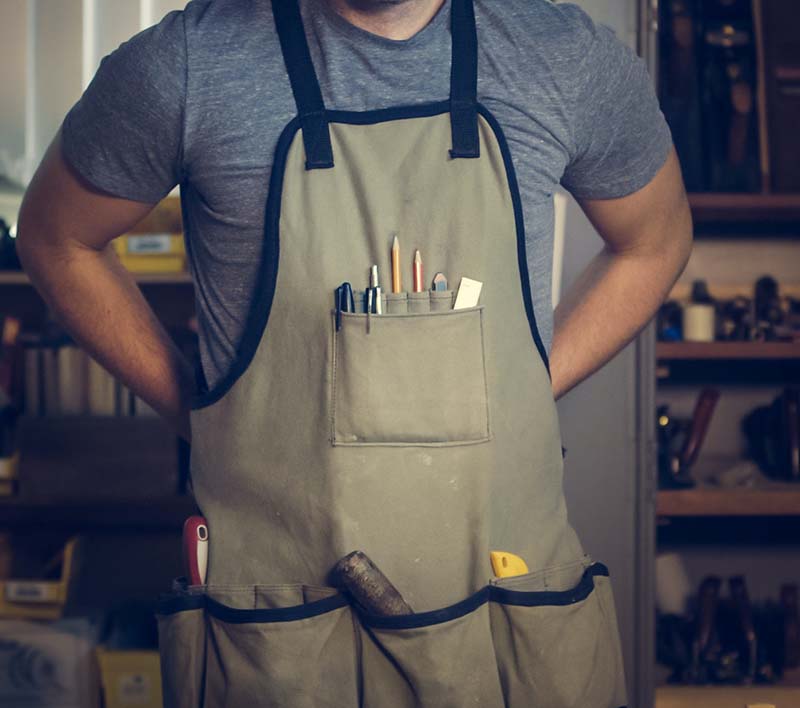 EAZZY COMMERCE
Features Listing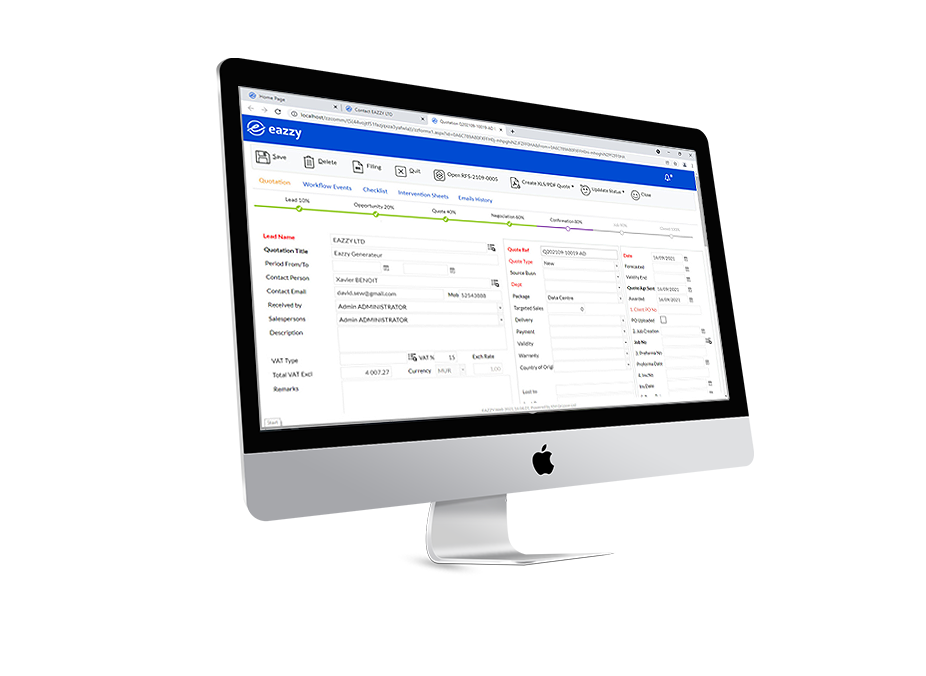 Your equipments are well managed
A Complete Customer Information Profile and a 360 degree view: Additionally you will be able to get a complete index of equipments sold at client, the history of maintenance contracts including the active ones with which equipment, the list of rental contracts as well as the list of RFS (request for service) performed at client. The inbuilt CRM Module will assist you in the creation and follow up of all your quotations and jobs while knowing the status of the customer's statement of account with your company.
RFS – Request for Service Management: All requests are easily traceable in the system and notifications are sent or reports produced to ensure that the Backoffice is aware at all times of what needs to be done for a customer. This will ensure that tasks are not forgotten and deadlines are met to ensure professional services to your customers.
Asset Registry Module: An equipment naming convention and unique codifications per location will generate unique equipment references for quick retreacability.
Equipment Management Module: Equipment history: This Module will index all RFS linked to an equipment and will provide live data on all jobs opened/closed linked to that specific equipment as well as the related costs/billing. Moreover, live data on all spare parts linked and used for repairing or maintaining that equipment will also be available. You will view the list of all POs (Purchase Order / Third Parties) for that equipment and all Servicings performed. Specific servicing rules can be defined by type of equipment upon ageing of the equipment for the effective planification of servicings.
A Complete Planner for jobs: This dashboard is accessible to technicians and will provide good visibility on all jobs whose deadlines have not been met. Filters in the planner are available to search data and obtain required information. It is in this module that you will plan jobs in relation to technician time table. Plan for daily, weekly,monthly and recurring RFS/Jobs. Link the planner to the technician intervention sheets.
Calculate your labor time
Maintenance/Rental Management of Equipments: Have all maintenance jobs been done or not, or are they coming up?
Intervention Sheet & Checklists: Connect to your intervention sheets onsite and send electronally signed intervention sheets on the spot. Insert photos if required for complete reports.
Billing module: It can be interfaced with any other accounting software such as SAGE PASTEL, QUICKBOOKS, AZURMIND, NAVISION, ORACLE…
Job Management: Get all the information you need: The budgeted labor vs consumed on a job. Subcontracting Costs. Demand for spare parts on jobs. Spare parts consumed. Summary of all expenses on a job.
Labor Management: Our bar code system to calculate the time spent on a job will do that for you. As such this functionality will provide an in-depth analysis on time spent per type of intervention.
Other Functionalities: The Integrated user Journal will let you know who does what when in the system.
Document Management System: We believe that it is important to have secured & organized filing for documents' intuitive and quick access/retrieval besides other all search functions available. Numerous functionalities are available: single or grouped documents naming conventions, in-built and other automated templates, with unique document references, as well as organized emails classifications, besides many other functions, will ensure that you will not spend time creating, searching and saving any type of document. Adopting a Cloud, on premise or hybrid access to your documents is possible EAZZY COMMERCE DMS section can be linked to any cloud. Get more insight by viewing EAZZY FILING on this website.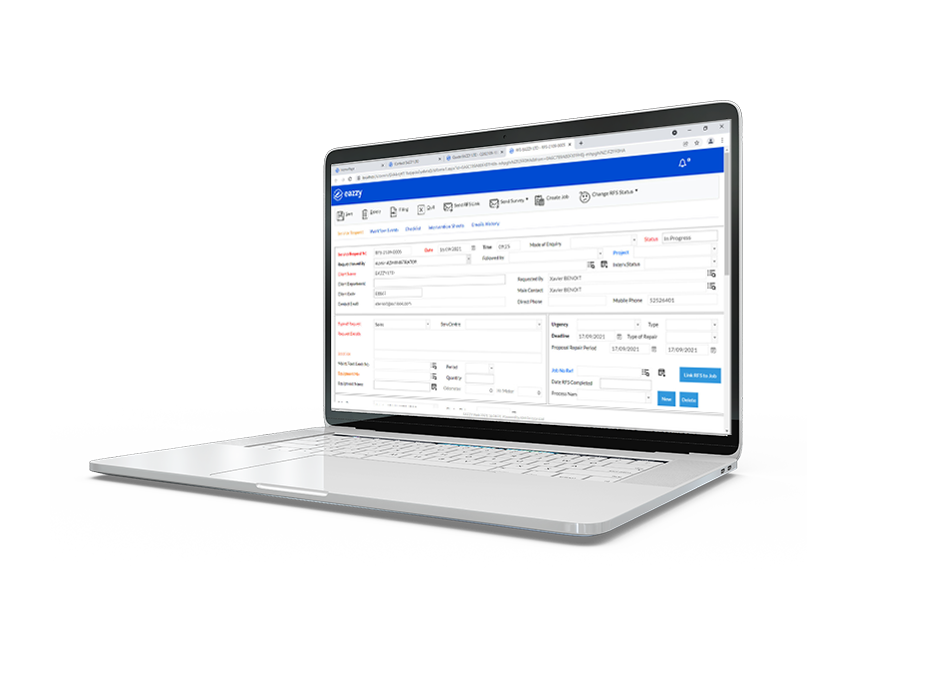 ADD ON MODULES
Stock Module
The stock management module will help you manage:
Are you Interested in our EAZZY Software?