Eazzy Commerce is a browser based software that has been specifically designed to provide actionable data for the companies that sell, maintain, rent & service any type of equipment. It allows you to link clients to sales, quotes, contracts, equipment, jobs, including after sales jobs, intervention sheets and as such gain a full 360-degree view of your clients' activities in relation to your business.
This software has been specifically designed for commercial businesses that sell, maintain, rent & service any type of equipment and for the management of jobs linked to them.
Eazzy Commerce is browser based software that has been specifically designed to provide actionable data for the companies that sell, maintain, rent & service any type of equipment. It allows you to link clients to sales, quotes, contracts, equipment, jobs, including after sales jobs, intervention sheets and as such gain a full 360-degree view of your clients' activities in relation to your business.
This software has been specifically designed for commercial businesses that sell, maintain, rent & service any type of equipment and for the management of jobs linked to them.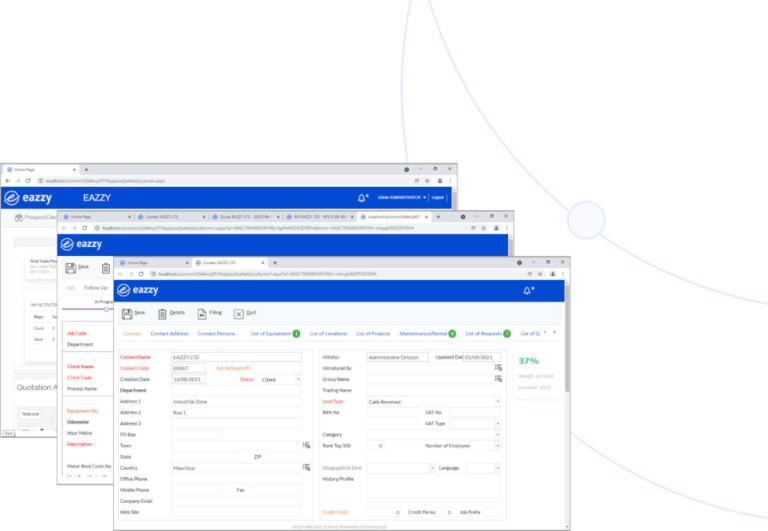 User Friendly
The software's UI has been designed to help the users quickly understand how to use it.

The Best Price
Our software is affordable and will meet your budget

Secure
Various levels of rights for users will determine what users can do or not in the system

Personalized Training
We ensure that trainings are delivered in line with our customers business environment
Manage your clients or prospects efficiently by getting a complete and 360 view about them and their interaction with your company products and services. This will include all the information about:
their equipment,
quotes,
jobs etc or other relevant information to which they are linked to in the system.
history of all maintenance contracts including active ones those which are linked with which equipment,
list of all rental contracts
list of RFS (Request for service/sales)
The inbuilt CRM Module will facilitate the creation and follow up of all quotes and jobs while you may consult the customers' statements of account in real time.
Create quotes and manage their progress status: from the lead to an awarded sales, till the end of the sales process. ​
Eazzy will automatically generate the quotes in excel or in pdf with the appropriate information and save the documents directly in the integrated Document Management System.
Link workflows or tasks to a quote; users will need to follow the process or the task to prepare the quote as per internal procedures.
All quotes may be linked to an RFS, which in turn can be converted into a job.
Our bar code system to calculate the time spent on a job will do that for you. As such this functionality will provide an in-depth analysis on time spent per type of intervention.
Manage efficiently all clients' requests for any type of technical service or a product sale – they will all fall under an RFS: Request for Service or Request for Sale.​
All requests are easily created and monitored in the system. Send notifications or generate various reports to ensure that the Back Office is aware at all times of the tasks they have to manage or follow for a customer. In doing so, ensure that tasks are not forgotten, and that deadlines are met in due time, thus ensuring a high level of service towards your customers. 
This section thus ensures that, all clients' problems, issues or requests are recorded, managed and listed in your database, for a unique source of truth about your clients and their requests.​
The Project management section will ensure that all tasks, follow ups, quotes and jobs are all grouped under one project. Get a full view on the entire project: the costs, the sales, the equipment installed etc.
Manage all jobs in this section until completion, while following their status. Get all the information on:
The budgeted labor vs the one consumed, using a bar code system and/or an electronic intervention sheet.
Insert any subcontracting costs linked to a job
Issue spare parts on jobs from a stock management software, which is linked to this job on Eazzy.
Manage in real time the spare parts consumed on any job.
Get a summary of all expenses linked to a job, as well as all the time spent on any intervention.
The Job Management Module will analyse every element which will be included in the job:
Costs, items, profitability, the equipment/vehicle on which repairs are required, type of repair, job status, the RFS itself, status of maintenance or rental contract.
Maintenance contracts and Rental Contracts are types of contracts which are managed in the system.
Maintenance contracts will consist of different types of maintenance interventions such troubleshooting and repairing, adjusting, overhauling and general servicing on any equipment.
Rental contracts will consist of rental equipment agreements made with a client not willing to purchase equipment, while wanting to get the benefits of an equipment.
The Maintenance & Rental modules will ensure you are on top of all the company's contracts, renewal dates and alerts as well as all the other details linked to them.
With this module you will plan and assign jobs/interventions to your teams or technicians with respect to a job.
This planner is accessible to both the Administrator/planner and the technicians. It provides visibility on all jobs: planned dates, the jobs' deadlines, those not yet tackled etc.
Plan for daily, weekly, monthly and recurring interventions in the planner and assign the job to the technician with the related intervention sheet. Update planner to view all job's statuses in real time displayed in different colors depending on their status.
Depending on the role of a user, access rights will vary too. This means that rights to create, edit or delete data in the Planner will vary depending on those rights and may not be same for everyone.
Technicians will connect to automated electronic intervention sheets at the client site, be able to update them:
– insert photos,
– Upload videos,
– Insert comments,
– Insert signatures including that of the client, and,
– Send the signed intervention sheets by email in real time to the client.
Intervention sheets for jobs, may be generated as per predefined and standardized checklists for certain recurring types of servicing.
Connect to your intervention sheets onsite and send electronally signed intervention sheets on the spot. Insert photos if required for complete reports.
Manage all the required information about an equipment:
The make, model, product category/sub-category, serial no, its location at client, and the unique system equipment code
Information on whether the equipment is still under warranty or whether under an active maintenance/rental contract or not
List of your suppliers from whom the equipment is purchased, the dates of stock/batch purchase, prices, depreciation …
360 view on how an equipment is linked to other forms in the system.
Create, view and manage all follow ups initiated from different forms: contact, job, etc.
Create follow ups or sub tasks and assign them to yourself or your colleagues
View the progress on assigned follow ups to your colleagues or update your own
Generate various reports to ensure you do not miss any follow up you have assigned or which have been assigned to you.
The document Management section exists at all levels in EAZZY COMMERCE:
The filing of electronic Documents filing may be linked either to your O365 SharePoint site or your office windows explorer
Eazzy will create automatically your filing directories
Generate, Create, Search, Modify, Save and Classify any type of documents
Upload templates with or without naming conventions
Work with documents and data within the same software for a unique source of truth.
We believe that it is important to have secured & organized filing for documents' intuitive and quick access/retrieval besides other all search functions available. Numerous functionalities are available: single or grouped documents naming conventions, in-built and other automated templates, with unique document references, as well as organized emails classifications, besides many other functions, will ensure that you will not spend time creating, searching and saving any type of document. Adopting a Cloud, on premise or hybrid access to your documents is possible EAZZY COMMERCE DMS section can be linked to any cloud. Get more insight by viewing EAZZY FILING on this website.
The billing module is an add on that you may plug in to EAZZY COMMERCE to manage proformas and invoices as well as credit notes, based on quotes and jobs initially created in the software.
Follow the flow, from the creation of a Proforma, to its validation and then, to its conversion into an invoice.
Generate automatically Proforma and/or invoices in Excel or in Pdf, which will get saved automatically in the integrated Document Management section.
Several reports have been built in to allow users with right follow the status on proformas and invoices.
It can be interfaced with any other accounting software such as SAGE PASTEL, QUICKBOOKS, AZURMIND, NAVISION, ORACLE…
Ready to see our presentation?
"We have working with EAZZY CORPORATE since 2015. We can testify that the software has been most useful in our daily operations (Entities Management (GBLI, GBL2, Domestic, Trust, Foundation, Fund. Document Management, Data management & Reports, creation of statutory documents, jobs management, timesheets management). The software has continuously been upgraded over the years, very easily customized and has yet remained easy to use. I am delighted to recommend EAZZY CORPOÅATE to any Company and Organisation in the OFFSHORE MANAGEMENT industry." Kind regards
Francoise Chapuis
Executive - Director
"We have worked in close collaboration with KM Orizzon over the past years and view them as an essential business partner who contributes fully to the progress of our business. We are very satisfied with the services provided and the support has always been prompt. KM's team has been very cooperative and has always helped us to find and fix any issues that came up. We have grown with KM Orizzon and appreciate that our feedback is taken into account when developing the new iterations. We hope to continue and strengthen our working relationship with KM Orizzon and look forward to a long and fruitful collaboration. "
Reshan Rambocus
CEO - Safyr Utilis Corporate and Trust Services Ltd
"Our Company, REINSURANCE SOLUTIONS whose headquarter is based in Mauritius, operates in reinsurance markets around the world. The company has been using the EAZZY FILING app for many years. Already convinced about the importance of sharing structured information, we took a further step: We connected EAZZY FILING to our SharePoint application to take advantage of the full collaborative power of these two solutions...."
Shashi Ramdany
CEO - Reinsurance Solutions Ltd
"We were looking for a tool to centralise all of our businesses documents into a central digital repository with control and security. We wanted the ability to replicate our current file system structure - so we were looking for a DMS which had no limitations as to creation of folder structure or ability to adapt to our specific use case. Eazzy Filing responds positively to all these criteria to our main and sub companies."
Amreen Seydally
Assistant - ICT Technician
"Our experience with KM Orizzon has been a pleasant one. The Team is dedicated and pro-active to make sure that their software is meeting our Company Secretarial requirements. Starting with a complete training, they are continuously working with us to provide a customised and reliable working environment to simplify our work....."
Yan Ng
ITL - Director
"Thanks to Eazzy it has been possible to manage equipment updates, Maintenance Contracts, Client Database, Quotations follow-up, Request for Service, Intervention sheets, all in a single platform. Using Eazzy on Tablets by technicians, intervention on site is submitted on server instantly and invoicing may be done on the same day. No missed servicing, no missed invoicing, all under control." Thanks & Regards,
Anil Bhunjun
MANAGER - Manser Saxon Elevators Limited
"This is to certify that KM Orizzon Ltd has successfully installed, configured and commissioned the below mentioned system at the Mauritius Civil Service Mutual Aid Association Ltd:  1. Document Management System; and   2. EAZZY Online Registry.  Both implementation were completed within the projected timeline and there was no cost overrun....."
R. BHAROSAY
IT Manager - Mauritius Civil Service Mutual Aid Association Ltd